Accent Carpet Care – Carpet & Upholstery Cleaning Services
Accent Carpet Care Ltd., is located in South Slocan, BC and offers carpet & upholstery cleaning services in the West Kootenays including Nelson, Castlegar, Trail, Rossland, Salmo and surrounding areas. We use the hot water extraction method to ensure the deepest cleaning possible and specialized extraction tools and products for removing stains or spots. Please call or contact us by email for a free estimate.
Carpet Cleaning

Our carpet cleaning method is known as the "Truckmounted, Hot Water Extraction" method. Clean water is supplied from the freshwater tank, or through a direct connection to your outside faucet. A mild cleaning detergent is injected and the solution is heated to 200 degrees F. It is then applied to the carpet through 6 spray jets at a pressure of 500 psi. The heat and pressure dissolves and suspends the soil while the powerful vacuum extracts the dirty water and deposits it into the on board wastewater tank. Drying times vary according to type of carpet, conditions, and airflow through the building. Typically 8 to 12 hours is a reasonable assumption. We recommend a thorough vacuuming of the carpet before our visit, this will ensure that your wet cleaning will be most effective.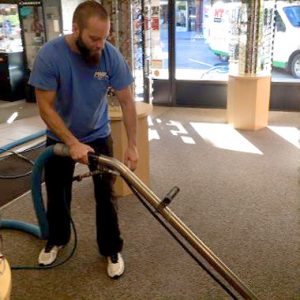 Upholstery Cleaning
Our upholstery cleaning uses the same method as carpet cleaning, "hot water extraction". There are however, two different types of cleaning attachments we use. One is called a "closed spray" attachment which is used for materials such as microfiber that are sensitive to water spotting if too much moisture is applied. The other is the traditional "open spray" which is used for all other fibers. As with carpet cleaning, the high heat and powerful vacuum provide a very effective cleaning. We recommend vacuuming your furniture before it is to be cleaned if there is a large amount of pet hair accumulation. Please inform us when booking if your furniture is microfiber. Extra time and care is needed when cleaning microfiber (this will be a slightly higher fee).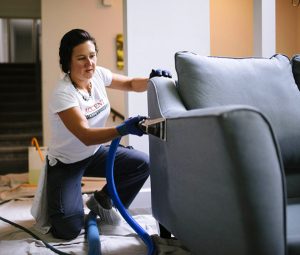 Spot or Stain Removal
Pet Stains | Red Wine | Food | Makeup | Rust | Ink | Gum | Adhesives | Paint
We carry a wide selection of professional stain spotting products and have a special extraction tool designed to extract a localized area surrounding the stain. This allows us to pull the stain from deep down and thoroughly rinse the area clean. Leaving residual chemical in the carpet causes rapid re-soiling which in time will appear as a dark dirty spot where there is still chemical remaining in the carpet. When stains first occur, it is best to remove as much as possible by hand, then saturate the spot with clean water. Lay several layers of paper towel over the area and apply pressure, allowing the moisture to wick into the paper towel. Repeat this process several times until no more of the stain will come out. Once the spot is as dry as you can get it, place one more clean stack of paper towels on it and place a weight such as a stack of books on top and leave it to wick over night. Then call Accent Carpet Care and we will take care of the rest!